Blue domes of Samarkand – one day excursion
Published: 15 August, 2017
In order to fully enjoy the azure city and explore a unique collection of historical monuments, it is necessary to make a tour to Samarkand for at least one day. It may be your first acquaintance with the city in which you will return again and again. Every trip to Samarkand opens new and unexpected features of the ancient and beautiful "Pearl of the East".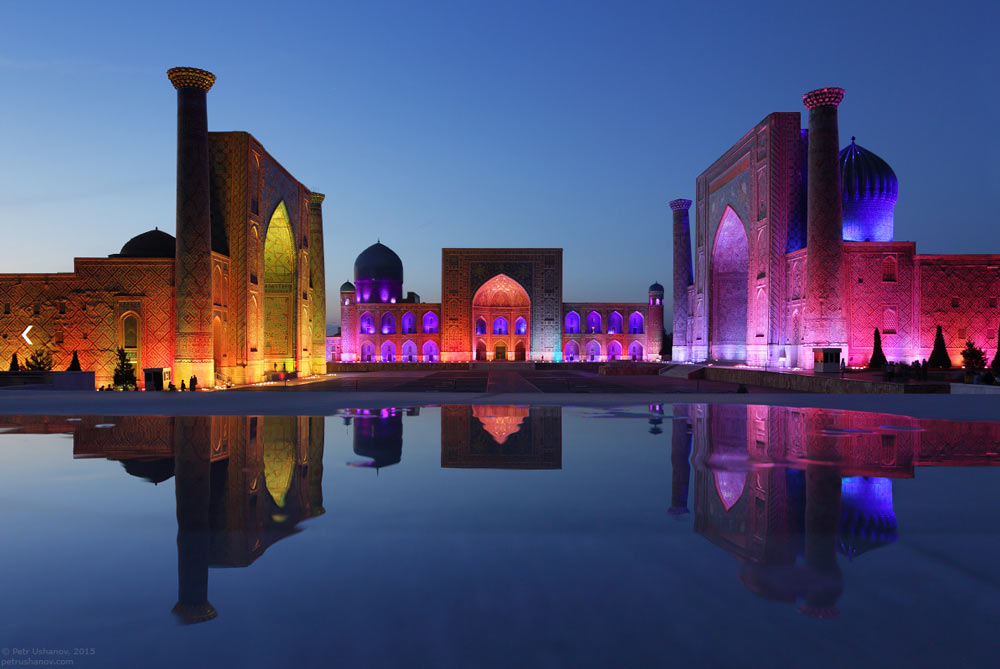 Lets the trip starts! The fast train "Afrosiab" will drive for 2 hours. Excursion around Samarkand begins! On a comfortable bus we go to the main sights of the city, known to the whole world. The program of the excursion tour around Samarkand has been carefully thought out, the logistics have been perfectly built, which allows you to visit the main cultural and historical monuments,just for 5 hours in order to have time to a delicious lunch.
We will go to the distant past, whose monuments are concentrated in Samarkand. The time of their construction dates back to 11-19 centuries.
We will visit the Mausoleum of Guri Emir – a recognized world masterpiece of architecture. You will see the tomb of Temurids: the tomb of Tamerlane (14-15 cc), which was built for the grandson of Timur-Muhammad-Sultan, and also the tombs of the three other Temurids-the sons of Timur Miranshakh and Shakhrukh and his beloved grandson Ulugbek. According to the legend, the grave was uncovered only once, which coincided with the tragic events in the history of the 20th century … Pay special attention: The mausoleum became the prototype of the Taj Mahal in Agra!
We also will visit the Mausoleum of Ruhabad, built in the 14th century – famous for its modesty "House of the Spirit". According to legend, here there are seven hairs of the Prophet Magomed.
Registan Square is one of the most beautiful places in Samarkand. No excursion to Samarkand is complete without a visit to the "Sand Place". Why the square is called so, you will know from an omniscient guide who will accompany the group.
Further along the route – Medrese Ulugbek, Madrassah Sherdor and Medrese Tilya-Kari. The Khazret-Khizir Mosque, the Shakhi Zinda complex, the Bibi-Khanum cathedral mosque.
What kind of tour to Samarkand without visiting the eastern bazaar? We will go through the world famous Siyaba – Samarkand bazaar. And the visit to the Ulugbek Observatory will finish our journey.
All small trips around the city we will make on comfortable transport. Depending on the number of participants of the tour to Samarkand, the services of travellers include: tourist class bus with climate control system, car, minibus or midi bus.
According to the reviews of our guests, the tour to Samarkand always leaves a very vivid impressions in the hearts and memory of people. Enjoy the beauty of Uzbekistan along with Novotours Silk Road, we still have many unforgettable trips along the roads of the Great Silk Road.